By TVR Staff
April 2018
Whether they're the focus of your trip, or just part of a fun attraction, animals make for great vacation memories. But not all animal attractions are created equal! Below, we've listed the best places to see wild animals up close. These are the 30 most amazing wildlife encounters in North America.
Adams River Salmon Exodus
Adams River, British Columbia, Canada

Though sockeye salmon rush through the Adams River every autumn in impressive numbers, you'll want to wait for the dominant run to experience the truly amazing wildlife encounter. In October 2020 (the date of the next dominant run), tens of millions of salmon struggle upstream through the river on their way to their spawning ground. Various viewing platforms stretch over the river to offer the best views of the swiftly passing red and silver fish — plus the black bears, grizzly bears, and bald eagles that come out in droves to hunt them!
Audubon Butterfly Garden and Insectarium
New Orleans, Louisiana

Would-be entomologists can get up close and personal with arthropods and other insects at the Audubon Butterfly Garden and Insectarium in New Orleans. This cool attraction has life-size interactive exhibits like a re-created entomologists' field camp, and human-sized underground passageways modeled after places that bugs live. And since it's Louisiana, there's even an opportunity to eat Cajun-fried crickets.
Backstage at the San Diego Zoo
San Diego, California

The San Diego Zoo one of the largest zoos in the United States and one of the most famous zoos in the world. Just visiting allows you to come face to face with some cool animals, but for a truly amazing wildlife encounter, you'll want to book the VIP Backstage Pass tour. The tour includes a lesson from a professional animal trainer, personal encounters with a rhino and flamingo, and your photo taken with a cheetah.
Big Cat Rescue in Florida
Tampa, Florida

Located in Tampa, a little over an hour from Orlando, Big Cat Rescue is a 67-acre sanctuary for exotic cats rescued from captive circumstances. There are more than 100 cats to see here, including ocelots, tigers, and lions. Besides getting up close to these majestic creatures, guests to the sanctuary will learn all about the cats and the rescue's noble mission.
Count Condors in California
Big Sur, California

In Big Sur, you can experience an amazing wildlife encounter while also doing something to help an endangered species. Ventana Wildlife Society runs one of five U.S.-based release sites for California Condors.  They allow visitors to spend the day with them at their base camp, collecting data and observing the condors in their natural habitat. The views of the Pacific Ocean 2,800 feet below aren't so bad either.
Diving with Great White Sharks
Farallon Islands, California

There aren't many places in the world where the average person has the chance to get up-close-and-personal with Great White sharks — well, on purpose at least — and remain safe. The Farallon Islands, located 29 miles from San Francisco's Golden Gate Bridge, is one of the those few places. Brave souls can book a 12-hour day tour with Great White Adventures that will land them in the cage and surrounded by these massive animals. Want to see the sharks, but not sure about getting in the water? The company offers a separate tour ticket that allows guests to watch from the boat, too.
Diving With Manta Rays
Hawaii, Hawaii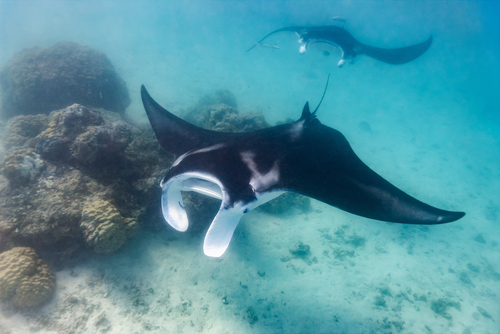 On the Big Island of Hawaii, visitors can get up close to some of the most interesting ocean residents: manta rays. Big Island Divers is a top-rated local company that schedules night-time dives for divers and snorkelers of all abilities. Swim through the water while the gentle rays are most active hunting for plankton.
Flamingos in the Yucatan
Celestun Biosphere Reserve, Yucatan, Mexico

Nearly 40,000 flamingos live in Yucatan, making the Mexican state an excellent place to visit for an amazing wildlife encounter. One of the best places in the Yucatan to get up close to flamingos is the Celestun Biosphere Reserve, a natural habitat of the flamingo and one of their favorite places to mate. Bring your camera and binoculars, as these highly protected birds aren't easy to reach, but a number of approved local guides run boat trips as far as the laws allow.
Float with Manatees
Crystal River and Homosassa River, Florida

You've probably heard of swimming with whales and dolphins, but what about manatees? Known also as "sea cows," these gentle water mammals make for entertaining swimming buddies. They're found in Florida in the Crystal and Homosassa Rivers, and despite being endangered, it's legal to swim with them under the close watch of a reputable guide. Sunshine River Tours is one of the most respected manatee tour operators in the business, and offers tours that last either two or four hours.
Gray Whales in Baja
Baja Peninsula, Mexico

The long and arduous annual gray whale migration ends in spring in Baja. This is where the whales can rest, breed, and give birth to their young in the warm waters of the Pacific. Many of these remarkably friendly whales choose to spend their spring hanging around the sheltered waters of Magdalena Bay and San Ignacio Lagoon. There are a number of certified companies that offer day trips to the lagoon. On these trips the massive whales often get close enough to the small boats for visitors to reach out and touch.
Great Reindeer Migration
Inuvik, Northwest Territories, Canada

Every years in early April, thousands of Canadian reindeer migrate across the Mackenzie River Ice Road from Inuvik to Richards Island, where they breed and give birth. The sight of the reindeer slipping and sliding across the ice road is a unique sight, while the post-crossing Muskrat Jamboree is tons of fun and a great way to experience local culture. Touch the Arctic Tours and Tundra North Tours both offer packages that include experiencing the reindeer migration.
Grizzly Bears from a Floating Lodge
Vancouver Island, British Columbia, Canada

There's no hotel in the world quite like Great Bear Lodge, an authentic log cabin lodge on a floating barge. The lodge travels around the northern tip of Vancouver Island, where guests can have incredible sightings of seals, puffins, various eagle types, wolves, and grizzly bears. The bears are easily the most exciting sight, and the lodge organizes biologist-led excursions to see and photograph the grizzlies up close in their natural habitat.
Hatching Sea Turtles
Huatulco, Oaxaca, Mexico

Every year in late August and September, thousands of endangered Olive Ridley sea turtles lay their eggs on just four beaches in the entire world.  One of these is in the small town of Huatulco on Mexico's Pacific coast. Every night biologists, local authorities, and visitors hoping to experience one of the world's most amazing wildlife encounters wait on the beach for the baby sea turtles to hatch.
Once the turtles have broken out of their shells, the humans walk with the turtles to deter predators and to protect the babies' journey from egg to water. People who want to experience this incredible sight up close can register with the World Wildlife Fund's Natural Habitat Adventures. Registrants will be present for the hatching, and will learn about sea turtles and various conservation efforts from local biologists.
Kayaking with Killer Whales
Johnstone Strait, Canada

From July through September, the Pacific Northwest becomes a haven for killer whales. These beautiful animals spend much of that time in Johnstone Strait, the narrow channel between the mainland and Vancouver Island, where they hunt various types of marine life. Boat tours take visitors out to see the orcas, but the best way to get up close is to kayak. To book a guided trip kayaking among the whale pods, check out the options available through Spirit of the West Adventures, a top-rated local company.
Monarch Butterfly Migrations
Santa Cruz, California

Every year, millions of monarch butterflies migrate up to 2,800 miles from Canada to Mexico. Because no single butterfly lives longer than the course of a one-way migration, this yearly event is considered to be "nothing short of a miracle," and is definitely an amazing wildlife encounter. While theoretically these butterflies can be seen anywhere along their route, Natural Bridges State Beach in Santa Cruz makes for an excellent encounter. A well laid out wooden walkway leads visitors through the lush environment, where thousands of butterflies can be spotted from about mid-October through mid-January.
Oahu Shark Dive
Oahu, Hawaii

Most people visiting Hawaii head out on boats to spot turtles, dolphins, or whales, and with this amazing wildlife encounter, you'll see those too. You'll also see sharks — hopefully a lot of them. Book a trip with a respected company like North Shore Shark Adventures or Hawaii Shark Encounters, then head out with an experienced guide. When sharks are spotted, the bravest in the group will have the opportunity to jump in the cage to get as close as possible to bull sharks, tiger sharks, and maybe even Great Whites.
Photographing Grizzly Bears
Katmai National Park, Alaska

During the summer months sockeye salmon make their spawning runs from the Bering Sea to the Brooks River in Alaska's Katmai National Park. This in itself makes for quite the wildlife encounter, though even more amazing are the grizzly bears that come to feed on the salmon. Near the river are elevated viewing platforms where you can watch and photograph the grizzlies in action — and in safety.
Polar Bears in Canada
Churchill, Manitoba, Canada

From October through November, so many polar bears descend upon the small town of Churchill residents that are instructed to leave the doors of their parked cars open in case someone needs to duck for cover. But what may be a nuisance for residents is a blessing for the local economy, as scores of tourists make their way to Churchill to see these majestic creatures up close. Natural Habitat Adventures books overnight tours via their tundra lodge located in one of the bears' favored spots. Upscale Natural World Safaris offers full-service polar bear tours throughout the region.
Protected Animals of the Everglades
Everglades National Park, Florida

Everglades National Park in Homestead, Florida is perhaps most famous for its large alligator population, but in fact, this unique habitat is home to some 36 federally protected animals. A number of local companies offer tours of the park. Lucky visitors will be able to spot the American Crocodile (not to be confused with its cousin, the alligator), various sea turtle species, the West Indian manatee, the Cape Sable seaside sparrow, and the critically endangered Florida panther.
Sea Turtles in Hawaii
Molokai, Hawaii

Sea turtles are a relatively common sight throughout the Hawaiian Islands, but for the most amazing sea turtle encounters, it's best to head to the island of Molokai. Molokai, a convenient day trip from Maui is a worthy destination on its own with its geographically unique southern coast. Here, volcanic sand-filled chasms provide the perfect habitat for the green and hawksbill types of turtles. The local company Molokai Fish & Dive organizes diving and snorkeling excursions for visitors wanting to explore this unique habitat and to get as close as possible to these endearing animals.
Seacrest Wolf Preserve
Chipley, Florida

Guarantee a wolf sighting by visiting the Seacrest Wolf Preserve in Chipley, Florida. This unique preserve is run by a non-profit organization dedicated to protecting these incredible wild animals. Gray wolves, along with a few arctic foxes, can be seen up close here, and visitors will also receive lots of helpful facts and information about the preserve's resident animals and conservation efforts.
Snorkel with Beluga Whales
Churchill, Manitoba, Canada

In July and August, brave souls have the opportunity to jump into the chilly waters of northern Canada to swim and snorkel with beluga whales. If snorkeling isn't for you, don't worry, the view is almost as good from the boat or zodiac, and lucky visitors might catch a glimpse of some polar bears, too. This amazing wildlife encounter is extremely limited, however, so it's best to book your trip through a company like Sea North Tours or Big Fish Expeditions.
Swim with the Fishes at the Florida Aquarium
Tampa, Florida

Even if heading out into the open waters isn't your thing, you can still experience what it's like to swim with the fish (minus the sharks) at the Florida Aquarium. The aquarium's 500,000-gallon coral reef exhibit looks amazingly close to the real deal. Guests ages six and over are able to don revised scuba gear, then float near the top of the tank to observe sea turtles, myriad fish, and moray eels up close.
Swimming with Sperm Whales
Dominica

Dominica is one of the most beautiful places in the Caribbean, but nothing you'll see on land beats the wildlife encounter you'll experience in the water. Dominica happens to be the best place in the world to swim with sperm whales, the massive whales of Moby Dick fame, known for their rectangular heads. Natural World Safaris is one of the few companies that offers the opportunity to get up close to the whales, which you can even do alongside famed marine specialists and well-known wildlife photographers.
Swimming with Whale Sharks
Bahia de Los Angeles, Mexico

From August through October, hundreds of whale sharks make their way to the warm waters off the coast of Baja California to rest, mate, and give birth. While they're visiting, the sharks are well protected by both Mexican authorities and local fishermen.  A few responsible local guides, including those at Las Animas Wilderness Lodge, offer boat trips that allow guests to swim and snorkel with the whale sharks, the world's largest fish.
Tracking Wolves in Yellowstone
Yellowstone National Park, Wyoming

For most people, catching a glimpse of a wolf in Yellowstone National Park is considered pretty lucky, but if you know where to go, your wolf sightings can become much more meaningful. Since being re-introduced to Yellowstone in 1995 (after an absence of about 70 years), the population of gray wolves has finally reached a healthy number. The five packs in the park keep mostly to their own territories, but those territories overlap in north-central Yellowstone's Lamar Valley. To increase your chances of getting some good wolf sightings even more, consider booking an experienced guide through The Yellowstone Association in Gardiner.
Watch for Narwhals
Baffin Island, Nunavut, Canada

Only about 75,000 narwhals remain on earth, and three quarters of those live in the waters off Baffin Island, Canada. To see these unique majestic creatures, your best bet is to join a multi-day tour led by experienced guides. Arctic Kingdom offers small-group tours starting from Baffin Island. While the goal is to get up close to pods of narwhals, guests will also spot various arctic birds, polar bears, seals, and the Midnight Sun, plus get the opportunity to camp on the ice.
Wild Animal Safari
Pine Mountain, Georgia

There's really nowhere else in the wild you're going to see the animals that live in Pine Mountain, Georgia, making the Wild Animal Safari an amazing — albeit untraditional — wildlife encounter. The park offers guided tours in typical safari vehicles, or allows visitors to drive their own cars through the park. Guests will see exotic animals such as vervets and pig-tailed macaques, plus a variety of one-of-a-kinds like zebroids (a cross between a horse and zebra) and ligers (part lion, part tiger).
Wild Animal Sanctuary
Keenesburg, Colorado

If you can't go on safari in Africa, Colorado may be the next best thing. The Wild Animal Sanctuary takes in exotic animals that have been confiscated from irresponsible owners, zoos, or circuses, and are now unable to live in the wild. Instead of being euthanized, the animals — which include over 400 rescued wolves, bears, lions, and tigers — are allowed to roam free over 720 acres. Guests can visit the sanctuary to see the animals up close, learn about the Captive Animals Crisis. You'll see why the Wild Animal Sanctuary has been named one of the best exotic animal sanctuaries in the world.
Wild Ponies at Assateague Island
Assateague Island National Seashore, Maryland and Virginia

There's something a bit fantastical about the idea of wild ponies on the beach, but that's exactly what you'll find at Assateague Island National Seashore. Spanning two states, the seashore is home to two big herds, including the Chincoteague ponies made famous by Marguerite Henry's famous Misty books. The ponies are easy to spot and make for excellent photography subjects, as do the seashore's many other wild residents like white-tailed deer and snow geese.