September 2016
To figure out which small towns could be considered the smartest, we analyzed U.S. Census Bureau data on the educational levels of various places with fewer than 100,000 people (according to the last U.S. Census). Just under 40% of Americans can boast of a college degree (bachelor's or associate's), while only 11% of adults have a graduate or professional degree. But based on the Census Bureau's list of the places with the most degree-holding residents, it would seem that those who have received more education tend to stick together. Furthermore, they tend to stick together in those cities and towns with a major college or university. Other things that determine the intelligence of a particular town? Honored public schools, political participation, higher-than-average SAT scores, and an arts presence all exist in a population that is considered of above-average intelligence.
1. Amherst, Massachusetts

Charming Amherst, Massachusetts is home to the University of Massachusetts at Amherst, Amherst College, and Hampshire College, so perhaps it's no big surprise that it is one of the smartest small towns in America. In fact, more than 50% of Amherst residents work in education. As if that weren't impressive enough, more than 40% of Amherst's population has a master's degree or a professional certificate. Besides the expected student population, a number of accomplished authors, musicians, composers, artists, and poets have also found Amherst to be a good place to live.
2. Bethesda, Maryland

A whopping 51% of Bethesda, Maryland's 56,824 residents have advanced degrees — a rate five times higher than the national average! Much of this statistic has to do with Bethesda's proximity to nearby Georgetown University, the National Institutes of Health, and Washington, D.C. Whatever the reason, Bethesda residents enjoy all of the amenities that come with being a city of smart and well-educated citizens. There are more than 200 restaurants in and around downtown Bethesda, while Bethesda's avid readers can choose from more than 20 places to buy books.
3. Bloomington, Indiana

Besides being home to a major state university, Bloomington, Indiana is a thriving center for science, technology, health, manufacturing, and education industries. Not surprisingly, this means Bloomington has quite an intelligent population. Many of Bloomington's intelligent residents would also describe themselves as entrepreneurs, and Entrepreneur Magazine recently named Bloomington as one of the Top 50 "Hottest Small Cities for Entrepreneurs," facts consistent with Bloomington's reputation as an industrial hub. Like most smart cities and towns, Bloomington offers its intelligent population plenty of cultural festivals and events in the arts, including the famous Little 500 bicycle race, the entrepreneur conference The Combine, and an annual Business Expo.
4. Brookline, Massachusetts

Brookline, Massachusetts, a small town despite being a suburb of Boston, is one of the smartest small towns in America. Of its population of just more than 58,000, 13.8% hold the highest of professional degrees. Perhaps this isn't too surprising, considering Brookline is close to Boston College, Boston University, Harvard University, and Massachusetts Institute of Technology. Besides education, Brookline is also well known for its tech companies and top-notch medical centers.
5. Cambridge, Massachusetts

An amazing 75% of Cambridge, Massachusetts' population holds a bachelor's degree or higher, while one-half of the total population can boast a graduate degree or better. Besides being impressive, these statistics easily solidify Cambridge as one of the smartest small towns in America. Massachusetts Institute of Technology (MIT) and Harvard University are both located there, and associated with the two schools are dozens of Nobel Laureates, Rhodes scholars, millionaires and billionaires, McArthur fellows, and so many more of the academic elite, all of whom have lived and worked in Cambridge at one time. Cambridge is also home to a larger than average number of museums dedicated to archaeology, natural history, and contemporary art, while the cultural features of Boston are only a short train ride away.
6. Chapel Hill, North Carolina

Of Chapel Hill, North Carolina's 57,000 residents, 95% earned at least a high school diploma, while an amazing 76% went on to acquire a bachelor's degree. Part of this is thanks to the fact that the University of North Carolina at Chapel Hill calls Chapel Hill home. UNC has a great reputation when it comes to health and medical studies, and a state-owned system of hospitals that tie into the university's school of medicine is a major employer of the town's non-student residents. As if that weren't impressive enough, Chapel Hill is also a third of the "Research Triangle" that includes Duke University and North Carolina State University.
7. Corvallis, Oregon

Located less than an hour from Portland, little Corvallis, Oregon has been the location of Oregon State University for 150 years. In recent years, Corvallis has become one of the most sought-after places in the Pacific Northwest in which to live, proving  that its population is of higher-than-average intelligence. Clean, friendly, and family-oriented, Farmers Insurance has named Corvallis one of the nation's safest places for a number of consecutive years. Besides the University, major companies centered there include Hewlett-Packard and Samaritan Health Systems. It's no wonder that nearly 48% of Corvallis residents have a bachelor's degree or higher, while 5.62% have PhDs.
8. Cupertino, California

Located in the San Francisco Bay Area, and smack-dab in the middle of Silicon Valley, the small town of Cupertino, California is one of the few places on this list that does not boast a college or university. Filled with tech companies, including the Apple headquarters, Cupertino is home to just over 58,000 people, many of whom are engineers or other tech professionals. Of those 58,000 residents, around 31% have a master's degree or higher, making it one of the most educated populations in the nation.
9. Evanston, Illinois

Evanston, Illinois is both one of the most sought-after suburbs of Chicago and one of the smartest small towns in America. Continuing the pattern that towns with institutions of higher education seem to also have populations of higher-than-average intelligence, Evanston has some of the most colleges and universities per capita in the entire country. Forty-four percent of its population has a bachelor's degree, while 39% have graduate degrees. Besides education, Evanston is also a hub for health, and a whopping 37% of all Evanston residents work in one of the two industries.
10. Ithaca, New York

A college town among all college towns, Ithaca, New York boasts a population of 30,000 people, 60% of whom are college students at either prestigious Ithaca College or the more prestigious Cornell University. Of those Ithaca residents that do not attend classes regularly, an impressive 33% boast a graduate or professional degree. Intellect seems to be a way of life in Ithaca, as the town is home to 17.6 arts and entertainment venues per 10,000 residents — one of the highest ratios of its kind in the entire nation. Some such venues include the popular Kitchen Theatre Company, a civic orchestra, and a hands-on science museum known as the Sciencenter.
11. Lexington, Massachusetts

Lexington, another small Boston suburb located near MIT and Harvard, Massachusetts has a population of fewer than 32,000. Impressively, 97% of Lexington residents graduated from high school, 76% have a bachelor's degree, 30% have a master's degree, 14% have a doctorate, and nearly 8% have a professional degree of some kind. Clearly, those in Lexington value education. A quarter of its public schools have even been declared National Blue Ribbon Schools, an honor that distinguishes high-performing schools.
12. Los Altos, California

Located in the San Francisco Bay Area, Los Altos, California is close enough to both Silicon Valley and Stanford University to be home to one of the smartest populations in the United States. In fact, just over 41% of Los Altos' citizens have advanced degrees. Some of that huge percentage certainly includes professors from Stanford, and from Stanford's top-ranked medical school. But one cannot simply be smart to live in Los Altos, as the city has some of the highest property values in the Bay Area.
13. McLean, Virginia

McLean, Virginia is another suburb of Washington, D.C. that is home to a number of government officials, politicians, writers, and researchers. An amazing 46% of McLean's population have an advanced degree — one of the highest percentages on this list. Like so many other places that enjoy such a close proximity to the nation's capital, McLean has high property values, but an even higher quality of life. Parks, community theaters, museums, and top-notch schools are all benefits tobeing part of McLean's highly intelligent population. Additionally, USA Today is also headquartered in McLean.
14. Mountain Brook, Alabama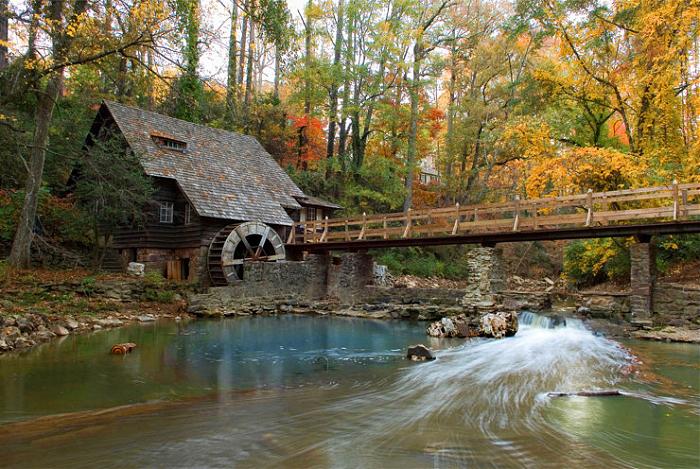 Alabama may be one of the lowest-ranking states in terms of public education, but if that's a rule, Mountain Brook seems to be the exception. Of Mountain Brook's 21,345 residents, 41.3% have bachelor's degrees, while 39.6% have an advanced degree of some kind. Like so many other towns on this list, Mountain Brook has much higher property values than its surrounding areas. Located near the University of Alabama, Birmingham, Mountain Brook is the chosen address of many of the university's highly educated faculty.
15. Palo Alto, California

Nestled along the edge of the tech hub that is Silicon Valley, Palo Alto, California is home to Stanford University and quite a few highly intelligent, well-educated residents. It would seem that such a smart reputation pays off, as Palo Alto's median income is a whopping $119,000 a year — an impressive amount even for the over-priced Bay Area. Like most towns with an intelligent population, Palo Alto makes the arts a priority. The Parks and Recreations department organizes several community theaters, an annual film festival, and a community art center that hosts exhibitions by local artists and classes for both children and adults.
16. Potomac, Maryland

Like nearby Bethesda, Potomac, Maryland is a D.C. suburb and the chosen address for many of the government officials and researchers who work in nearby Washington. Of Potomac's population of just over 47,000, an amazing 76% hold a bachelor's degree or higher, with the vast majority boasting the latter. With such impressive statistics, and easy access to the culture and history of D.C., it takes more than just brains to live in Potomac. According to CNN Money, Potomac is the most affluent zip code in the United States (based on average median income).
17. Princeton, New Jersey

Since towns that play host to prestigious universities tend to have some of the smartest populations, it should come as no surprise that Princeton, New Jersey makes the list of the smartest small towns in America (for the record, Rider University's Westminster Choir College and Princeton Theological Seminary also call Princeton home). Besides a large student population –where the average student scored nearly 700 points higher on their SAT than the national average — Princeton enjoys a population that appreciates the arts. The Princeton Art Museum is one of the most popular attractions in town, and consists of more than 72,000 impressive works, including original works by Van Gogh and Monet.
18. State College, Pennsylvania

Thanks to Pennsylvania State University's top-notch reputation and high capacity for research, its hometown of State College, Pennsylvania is easily one of the smartest small towns in the country. Approximately 40% of its population has a master's degree or higher. The University and other venues catering to students are major economic forces, while other big employers include the Mount Nittany Medical Center and the locally headquartered AccuWeather. Thanks to its more-intelligent-than-average population and a number of major employers in the area, State College boasts one of the lowest unemployment rates in America.
19. Wellesley, Massachusetts

Wellesley, Massachusetts is a charming historic town located 13 miles from Boston. Forty-six percent of its nearly 30,000 residents have an advanced degree of some kind. Many of those who don't commute into Boston for work are employed at Wellesley College, a top liberal arts school that has turned out such notable alumnae as Madeleine Albright, Hillary Rodham Clinton, Cokie Roberts, and Diane Sawyer, to name a few. As the home to a liberal arts college, Wellesley is a wonderful source for cultural events and the arts, and whatever one can't find in Wellesley can almost certainly be found in Boston.
20. West Lafayette, Indiana

Of West Lafayette, Indiana's 27,664 residents, 30.3% have a bachelor's degree, while an incredible 47% have an advanced degree of some kind. While part of this is due to the fact that Purdue University, located in West Lafayette, tends to draw top-notch minds, a more accurate explanation is Purdue Research Park's high-paying science and tech jobs that keep those minds around for awhile. Nissan Chemical, Nanovis, and Butler Chemical are just a few of the many tech-themed companies with addresses in West Lafayette.