The Rocky Mountains offer some of the most beautiful landscapes in the country. The mountains, which range over 3,000 miles, are breathtaking and huge! They extend from British Columbia to New Mexico, and some peaks are 14,440 feet above sea level. Mount Elbert in Colorado is the mountain range's highest point. People from all over come to see the Rocky Mountains. They're diverse, making no viewpoint the same. They start low, long, and flat in the plains in the east and if you spend your time traveling through this area of the country, you will see the landscape gradually grow until it forms into a "wall" referred to as the Front Range, which is just east of the continental divide.
The "Rockies" are considered a western region of the United States that extend into Colorado, Idaho, Montana, Wyoming, northern New Mexico, and north-central Utah. If you're lucky enough to live in or visit the Rockies, you'll get to see these beautiful views we're gushing about. These towns are exciting during every season of the year. Every town on the list is close to plenty of outdoor activities – swimming, skiing, fishing, snowboarding, paddle boarding, camping, hiking, mountain biking, and more! Plus they're all filled with friendly people who support local businesses, love their dogs, know their neighbors, and spend most of their hours outside. We don't know if it gets much better than these spots, which is why we are giving you a list of the 20 Most Charming Small Towns In The Rockies. You know, just in case you want to move to one of the most incredible places in the country! Or you could just visit. That's always a good start.
20. Santa Fe, New Mexico
Population: 69,978
Elevation: 7,198 feet
Average Home Cost: $629,723
Average Hotel Cost: $75/night
Santa Fe, the capitol of New Mexico, is nestled in the foothills of the Sangre de Cristo mountains. It was founded as a Spanish colony back in 1610 and hasn't lost any of it's culture or history. The town is colorful and vibrant, known for it's Pueblo-style architecture. Whether you're hiking in the mountains, strolling in and out of the art galleries downtown, or eating diverse cuisine, you're sure to love this mountain town.
19. Lander, Wyoming
Population: 7,732
Elevation: 5,358 feet
Average Home Cost: $219,153
Average Hotel Cost: $95/night
Lander is a charming town that reminds you what the west is all about. It's located in central Wyoming, along Popo Agie River with some spectacular views of the Rocky Mountains. If you're spending some time in this town you're going to be visiting the dude ranches, hiking to some incredible locations, eating at barbecue joints and having lots of fun!
18. Wallace, Idaho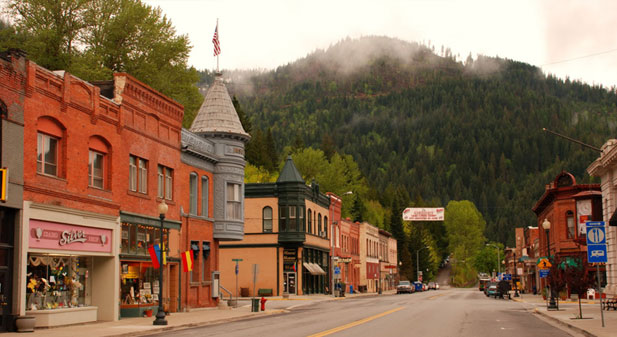 Population: 781
Elevation: 2,730 feet
Average Home Cost: $124,653
Average Hotel Cost: $85/night
Wallace is a historical mining town in northern Idaho with lots of charm. It's nestled between two ski recreation areas in Silver Valley. This mountain environment attracts outdoor junkies from around the world! Some come for the deep powder at the ski resorts, some come for mountain biking trails, some come to hike, and some come to enjoy the beautiful alpine lakes. This place definitely doesn't have an off season!
17. Hamilton, Montana
Population: 4,556
Elevation: 3,570 feet
Average Home Cost: $434,100
Average Hotel Cost: $75/night
Hamilton is located in south-western Montana in the breathtaking Bitterroot Valley. The Valley used to be home to the Bitterroot Salish Indian Tribe and while it has been passed through and discovered by many different groups of people, the Valley has yet to lose it's beauty. It has become a go-to spot for lovers of the outdoors, nature, great community, and gardening. We love Hamilton because it is a small charming town in rural Montana but is a quick drive to Missoula,  a more urban environment.
16. Ketchum, Idaho
Population: 2,706
Elevation: 5,853 feet
Average Home Cost: $1,175,082
Average Hotel Cost: $115/night
Ketchum is a year round resort and recreation area in the mountains of central Idaho. It's located in the Wood River Valley and visitors and residents get to see and enjoy Bald Mountain every day. The town has a vibrant community filled with art lovers, outdoor junkies, seniors, and lots of children. Whether you're strolling in the lively downtown, hiking in the mountains, attending cultural events, or catching some air at one of the beautiful ski resorts, you're sure to enjoy the mountain lifestyle.
15. Buffalo, Wyoming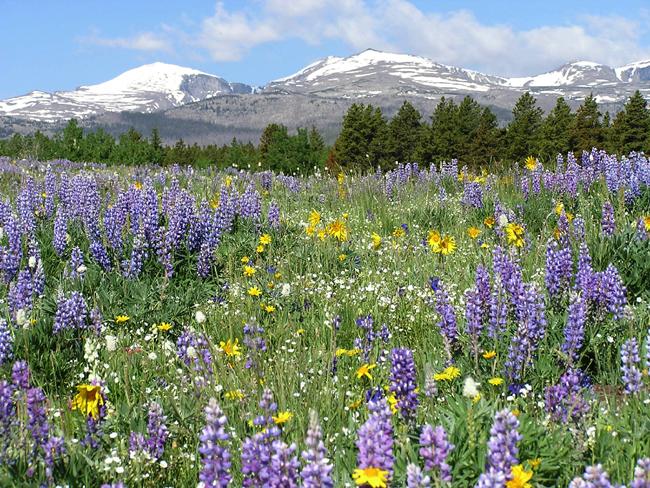 Population: 4,638
Elevation: 4,646 feet
Average Home Cost: $290,698
Average Hotel Cost: $85/night
Buffalo is nestled in the foothills of the beautiful Big Horn Mountains. It's located along the Cloud Peak Scenic Highway, which can bring you from Mount Rushmore to Yellowstone National Park. Main street has more than a dozen historical buildings and the town is filled with other historical sites – including the infamous "Hole in the Wall,"  the hideout of Butch Cassidy and the Sundance Kid with the rest of the "Wild Bunch." Just like all the mountain towns, Buffalo is a great spot to go skiing, camping, hiking, boating, fishing, wildlife viewing, and more.
14. Vail, Colorado
Population: 5,311
Elevation: 8,022 feet
Average Home Cost: $720,000
Average Hotel Cost: $140/night
Vail is possibly the mountain town of your dreams. It's located at the base of Vail Mountain, which is home to world renowned Vail Ski Resort. Vail sits within White River National Forest and every time you look around you, your mind is going to be blown! It's a go-to travel spot for lovers of the outdoors, no matter the season! It's a winter sport lover's dream, a summer time spot for hiking, golfing, and festivals, and the autumn colors are postcard worthy. What are you waiting for?
13. Park City, Utah
Population: 7,962
Elevation: 7,000 feet
Average Home Cost: $1,892,797
Average Hotel Cost: $120/night
Not only is Park City home to one of the top ranked ski resorts in the country (Park City Mountain Resort), it's also a wonderful place to call home. Park City is bustling all year round. Between outdoor activities, music festivals, food tours, extreme sporting events, and more, you're never going to be bored in this charming town. The cost of living may be a little steep here, but it's a great place to enjoy the Rocky Mountains?
12. Cody, Wyoming
Population: 9,833
Elevation: 4,997 feet
Average Home Cost: $399,670
Average Hotel Cost: $115/night
Cody is a small town in Wyoming filled with cowboy boots, wide brimmed hats, historic saloons, and lots of whiskey. Cody was incorporated in 1901 by Colonel William F. "Buffalo Bill" Cody, who passed through the area in 1870 and saw the potential. The grand scenery, rich soil, irrigation, hunting, and close proximity to Yellowstone National Park caught his eye and he knew he had to start a town. Lucky for us, Cody maintains much of that charm and history. The Shoshone River flows right through Cody in a deep canyon and the Owl Creek Mountains to the south and the Bighorn Mountains to the east make for some pretty crazy downtown views.
11. Hailey, Idaho
Population: 8,014
Elevation: 5,318 feet
Average Home Cost: $786,033
Average Hotel Cost: $75/night
Hailey is located in the Wood River Valley with magnificent views of the Central Idaho Rockies. is commonly referred to as "Idaho's Hometown in the Mountains." This tiny community is nestled at the edge of Sawtooth and Challis National Forest and is surrounded by wild, public land. The Big Wood River flows along the western edge of Hailey. The town is filled with a diverse array of residents and attracts many tourists each year with it's rich history and wide array of outdoor activities.
10. Durango, Colorado
Population: 17,577
Elevation: 6,522 feet
Average Home Cost: $339,000
Average Hotel Cost: $115/night
Durango is basically Colorado's year round playground. You will always find something to do in this majestic mountain town. The surrounding landscape is diverse and dramatic – from red sandstone bluffs of the Animas River Valley to the extreme jagged peaks of the San Juan Mountains. Some of these mountains are 14,000 feet in elevation! Durango is a vacation destination. Some people take the historic Durango and Silverton Narrow Gauge Railroad through the canyons of the San Juan National Forest for spectacular views.  Some come to take advantage of the outdoor activities, and some come for the arts and culture. We think you should come for all of these things. You won't regret it!
9. Idaho Falls, Idaho
Population: 58,292
Elevation: 4,705′
Average Home Cost: $172,486
Average Hotel Cost: $85/night
Idaho Falls is the kind of town you see a photo of hanging in your doctor's office. It's beautiful, makes you smile, and feels like your "happy place." It's the largest city in eastern Idaho but somehow still feels like a small rural town. It's often featured on blogs and in magazines as one of the places to live due to it's high quality of life, booming economy, and proximity to many outdoor activities. The town's name come from the waterfall along Snake River. The Idaho Falls Idaho Temple is perfectly placed right behind the falls, as if the town could not be more picturesque. We love this town for it's community, outdoor fun, and vibrant downtown!
8. Taos, New Mexico
Population: 5,731
Elevation: 6,969 feet
Average Home Cost: $438,894
Average Hotel Cost: $110/night
Taos is located in northern New Mexico's high desert, surrounded by the Sangre de Cristo Mountains. The town's claim to fame is it's historic pueblo buildings, such as the Taos Pueblo, a multistory adobe complex that has been home to Native Americans for centuries and is frequently photographed. Taos is not only a great place to enjoy the outdoors, just like any mountain town, but it's also a longtime artist colony, which we believe sets it apart from the rest. Taos is home to many galleries, museums, and exhibits, all which showcase the regional and diverse artwork. This colorful town is the place to be.
7. Big Timber, Montana
Population: 1,653
Elevation: 4,091 feet
Average Home Cost: $405,450
Average Hotel Cost: $90/night
Who doesn't want to live in a small rural town where the prairies meet the mountains? Big Timber sits in the valley formed by the confluence of the Boulder and Yellowstone Rivers and has spectacular views of the Crazy Mountains and the Absaroka-Beartooth Ranges. Big Timber is located in Sweet Grass County, which is bigger than the state of Rhode Island and has about 450 square miles of public lands that offer opportunities for fishing, camping, hiking, boating, and much more. The combination of breathtaking scenery and good ol' western hospitality are the reason why this charming town made our list!
6. Jackson, Wyoming
Population: 10,135
Elevation: 6,237 feet
Average Home Cost: $1,938,351
Average Hotel Cost: $200/night
Jackson is part of the Jackson Hole Valley of Teton County in Wyoming and it's a town that's sure to win your heart. It has an old western style downtown filled with vintage shops, boutiques, delicious dining, and a quaint, green park right in the middle of town. While the arts and entertainment are great in this town, the best part is the views! Jackson is surrounded by the Teton and Gros Ventre mountain ranges. Flat Creek, a tributary of the Snake River, also runs through town. So whether you're here for sightseeing, shopping, skiing, hiking, the proximity to Yellowstone National Park, or just about any other activity you can think of, you're going to be satisfied and never want to leave.
5. Whitefish, Montana
Population: 6,649
Elevation: 3,028 feet
Average Home Cost: $686,173
Average Hotel Cost: $130/night
This warm, happy town is a great place to visit or live. The town has an unbeatable atmosphere. The community is tight-knit and there is so much to do! Whitefish is right in the heart of Rocky Mountain wilderness and is just a quick drive to Glacier National Park. This means that no matter the season, you will never get bored! Downtown is bustling with coffee shops, fine dining, boutiques, local shops, and some pretty crazy views. We love this place!
4. Ogden, Utah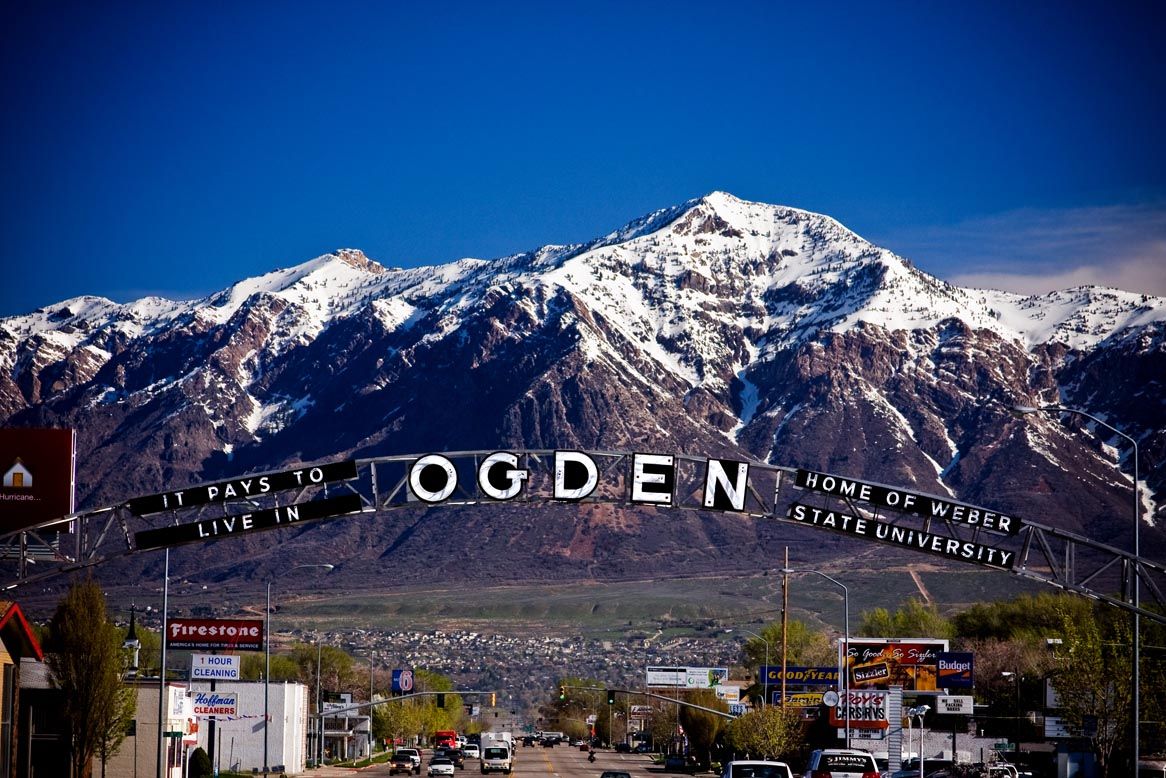 Population: 84,249
Elevation: 4,298 feet
Average Home Cost: $209,270
Average Hotel Cost: $65/night
This colorful and historic downtown is a quirky lover's dream. Ogden was once a lawless frontier town and you can feel that history and energy when you're here. When the railroad was built in 1874, the town started to bring in a bunch of characters. Many visitors came to town, some legitimate and some a bit shady, and they strolled up and down the historic 25th street to prospect for business. The city quickly became known for it's rough and quirky character – a place where you could get away with just about anything. It's reported that Al Capone said that the town was even a bit too rough for him! The town has changed quite a bit since then. It's rugged and rural, yet hip and urban. It's filled with history and charm, but has something for everyone. It's a perfect place to enjoy the outdoors, meet unique people, and feel at home.
3. Breckenridge, Colorado

Population: 4,648
Elevation: 9,600 feet
Average Home Cost: $750,000
Average Hotel Cost: $100/night
Breckenridge is a town you just want to bottle up and take with you everywhere you go. It's a small town located at the base of the Rocky Mountains Tenmile Range. It's known for it's world renowned ski resort, quaint downtown, large variety of outdoor recreational actives, and Gold Rush history. Breckenridge's Victorian area is preserved as a National Historic District and we are thankful for that! It runs mostly along Main street and is filled with colorfully painted historic buildings from the 1880s and 1890s which are homes to shops, restaurants, and galleries. You should see this town on a snowy winter night. You'll buy a house immediately!
2. Bozeman, Montana
Population: 39,860
Elevation: 4,820 feet
Average Home Cost: $504,541
Average Hotel Cost: $75/night
Located in southwestern Montana, Bozeman is a small mountain town with a lot of personality. Bozeman is a prime location for Montana outdoor activities. The Bridger Mountains are to the northeast, the Tobacco Root Mountains are to the southwest, the Big Belt Mountains and Horseshoe Hills are to the northwest, the Hyalite Peaks of the northern Gallatin Range are to the south, and the Spanish Peaks of the northern Madison Range are to the south-southwest. Did you take that all in? You're definitely going to need some serious time in Bozeman just for outdoor fun alone! Aside from outdoor recreation, Bozeman is a college town, meaning that there's always something fun going on and lots of friends to be made. Downtown has delicious food, vintage shops, boutiques, weekly concerts in the summer, a community run grocery store, and a vintage Spartan trailer that sells tacos and homemade ice cream.
1. Telluride, Colorado
Population: 2,319
Elevation: 8,750 feet
Average Home Cost: $2,000,000
Average Hotel Cost: $200/night
Here it goes! Number one. Telluride, Colorado is more than worthy of the number one space on our list. This picturesque town was formerly a Victorian mining town and is perfectly located in Colorado's Rocky Mountains. It is set in a box canyon amid epic forest and snow covered peaks. It's home to a popular ski and golf resort, known for it's annual festivals such as the Bluegrass Festival and Telluride Film Festival, and is the kind of place you never want to leave. Telluride is not on the way to anything or anywhere. You only come to this town because you want to and the people that are here definitely appreciate where they are. There are no chains, no fast food joints, no skyscrapers, and there is definitely no bad energy. The cost of living is far from cheap but if you can make it work, you will definitely not regret it. If you haven't been to Telluride, it's time to book a trip.This place is magical.
Data pulled from:
Google Map Data
BestPlaces.net
Kayak.com
Trulia.com